Unique Suijyuku Method
Results of Numerous Tests
The Suijyuku Method has been developed for 3 years and succeeded through numerous tests.
Based on the idea "Sent the white peaches from Okayama to the world", we challenged the infinite possibilities after we started collaboration with food processing masters.
We successfully developed a method which has never been seen - Suijyuku Method.
The peaches processed by the Suijyuku Method have unique taste and aroma from regular peaches.
They are the magic peaches with such tenderness and freshness.
Creative Ideas for Creating Special Taste
In the Suijyuku Method, both peaches and syrup are strictly selected.
The palatinose in the honey syrup can preserve the freshness of fruits and the special films are used to prevent them from darkening.
By this unique method, the fresh fruits, which can only be tasted in two weeks, now can be savored all year round.
Please enjoy the unique taste of the Suijyuku Peach.
Production of Suijyuku Peach

Selection of Packing as the Case May Be
Both excellent in taste and appearance.
For cheering up the receivers, please select proper packing as the case may be.

For gifts to companies, we suggest the packing of premium paulownia wood box for Suijyuku Peach.
For gifts to acquaintances and friends, we suggest the packing of lovely bottles "Golden Peach".
For gifts sold online, they can also receive applause.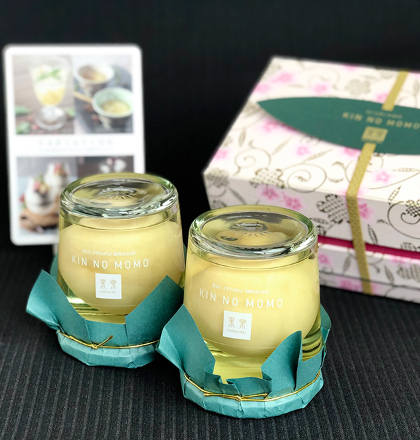 Numerous Awards
Awarded the Grand Prix of the Okayama Innovation Contest
We receive the requests of processing fruits for domestic companies and provided the knowhow solutions to extending the sale time of fruits and promoting farmers' profit.
In addition, we export the fruits, which are the pride of Japan, to the world and greatly reduce the risks of exporting fresh products.
Those fruits, which may be discarded because of putridity, will be enjoyed by this method.
In fact, we are currently testing it on Sawadapersimmons from Okayama, Shine Muscat and cantaloupes, as well as mangos from Miyazaki French pears from Yamagata.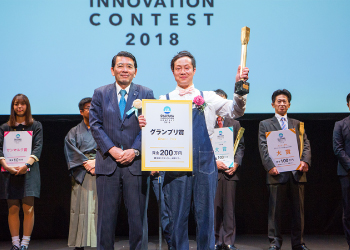 ・Debut in theLightning Talk of 2018 Tech Planter(2018.11).
・Grand Prix of the Okayama Innovation Contest(2018.11).
・Finalist of 2018 Business Contest(NEWORK EXPO)Okayama(2019.1).
・Finalist of New Business Grand Prix in Chugoku area (Chugoku NBC)(2019.3).
Awards in the New Product Competition
Suijyuku Peach was awarded the Grand Prix of new food product competition in the 23rdGourmet & Dining Style Show in February of 2018.
The packing in the paulownia wood box also receive high applause for its premium quality and design. It is a new product which has never been seen in the market.
Then the Suijyuku Peach was awarded the local best prize of the 10th JR West Japan Sunny Hometown Competition because of its great taste and impressive packing.