Features of Suijyuku Peach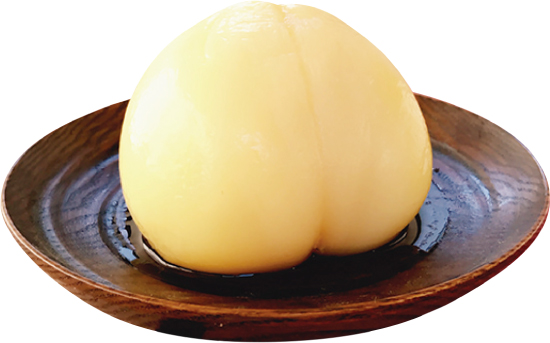 Similar Taste to Fresh Fruits

The Suijyuku Peach of KARAKU INC. is a great product to the market. It is made from the premium white peaches, which are the pride of Japan.
It is tasted differently from the regular canned peaches because it provides the taste of fresh fruits all year round.
In addition, the fruit season of peaches is pretty short, only about two weeks long.
In order to provide the fresh white peaches from Okayama, we preserve the freshness of peaches and bring these specialties from Okayama to the market.

Elegant Sweetness

Not only the fresh taste is provided, but also the elegant sweetness.
We preserve peaches in the natural sweet syrup, which goes very well with peaches. The sweetness fully releases the flavor of peaches.
Therefore, this product is also for the people who don't like the sweetness of canned peaches.
You will not have bad breath after tasting our products. The elegant flavor is quite popular among people. Please have a try if you really want to enjoy a special dessert.

Exquisite Gourmet for the Elderly

The Suijyuku Peach products of KARAKU INC. are really popular for serving as exquisite gourmet or charming fruits.
It is also very deliciousto eat directly, or it can be used for cocktails or other recipes.
The syrup is a refreshing taste similar to the sweetness of fruits, and it is also very refreshing in soda or sparkling wine.
It becomes peach tea after heated, and it is recommended to drink when you are tired or want to refresh your spirit.

Peaches All Year Round

You can enjoy the Suijyuku Peach products of KARAKU INC. all year round. Seasons are no longer a problem.
Generally speaking, peaches are harvested from mid-June to early September.
Fruits cannot be harvested all year round.
However, when you want to enjoy the Suijyuku Peach products, you can savor them at any time you like. Meanwhile, they can be exported to overseas markets or served as an inbound specialty of the whole new fascination.