The Suijyuku Peach full of the fresh taste.
What is Suijyuku Peach?
Kurashiki Asabara is the representative place where Okayama peaches are grown. Under the warm weather of facing Seto Inland Sea, the growing peaches full of sweet juice are grown into mature fruits. Suijyuku Peach refers to the peaches processed by the unique Suijyuku Method, which gives mature peaches the delicious taste all year round.
Peaches aresummer fruits and very delicate.
We hope that people can taste the perfect deliciousness of these peaches all year round.
Please enjoy the exquisitefascination of the Suijyuku Peach.
Taste of Suijyuku Peach
Suijyuku Peach is processed by the unique Suijyuku Method, which gives peaches the fresh taste in all seasons. The moment you taste a peach, you feel the freshness, like the touch of harmony on your tongue.
In addition, the whole fruits of Suijyuku Peach are immersed into honey syrup after harvest. The natural sugar "palatinose" in honey prevents fruits from darkening and keeps them in the perfect and astonishing state.
Because peaches are immersed in the syrup, which goes well with fresh fruits, the elegant sweetness is a sure thing. You can directly drink the syrup or add it into the cock tail made from juice and wine.
Please savor the elegant sweetness of Suijyuku Peach and enjoy the charming taste of fresh fruits.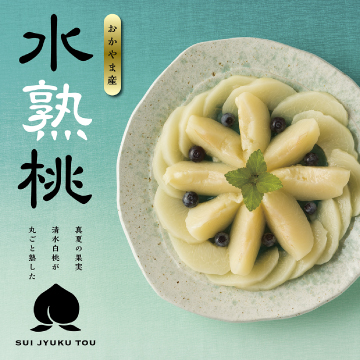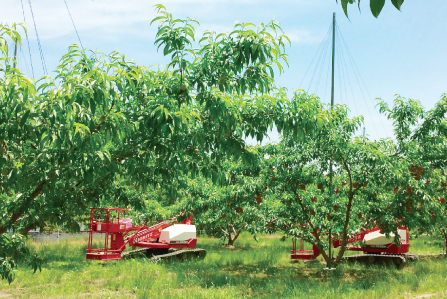 All products of the SUI JYUKY brand
Led by the Suijyuku Peach, there are all kinds of products with the fresh taste and elegant sweetness.
We also provide the best products for gifts.
Give gifts to people who are important, as well as people who cared about you.
Show your gratitude by the gifts of Suijyuku Peach.
KARAKU INC.
We dedicate ourselves to introducing the white peaches from Okayama to the world and providing creative knowhow solutions to the problems of fruit damage and loss.

After about 60 years of growing peaches, we spent several years in developing anunprecedented method for the whole new peach products, starting the SUI JYUKY brand.
The method of long-term preservation for fruits is a technology which can be applied to several issues, such as solving problems of fruit damage and loss in Asian developing countries, promoting domestic farmers' profit and developing products of high added value.

Although we have brought our products to the domestic market, we are zealous to build separate channels for selling our high-added-value products of SUI JYUKY brand to overseas markets.
We currently expand our business in Asian areas, such as Hongkong, Taiwan and Singapore. We hope to expand it to Mid-East, Australia and Asian developing countries.
Our goal is to fulfill the strategy of inbound marketing and expand our business by the products of SUI JYUKY brand.
About KARAKU